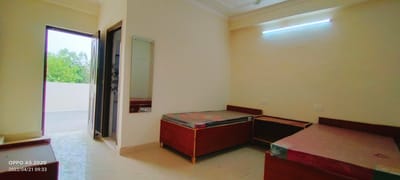 What are the benefits to stay in a PG in Gurgaon?
Gurgaon better known as IT hub is home to many MNCs. Paying guest accommodation by Shree Sai Homes PG are available for boys in Gurgaon. PG is the most basic choice of every working person and what is better than a paying accommodation near your workplace. Sector 48 Gurgaon is no less than an MNC hub paying guest accommodation are available for boys in Gurgaon sector 48, 49, 41, 38.
Affordability:
When it comes to living affordably, you cannot rent a private room or apartment in an expensive city like Gurgaon. You will not find an apartment or single room less than 15000 to 20000 per month which is a big amount. As a student or working as a beginner in a company it may become hard for you to manage rents and other expenditure. On the other hand, you can find a spacious and separate boys PG in Gurgaon under an affordable range of 5k to 10k that is a reasonable amount and can get meals included in the monthly PG rent.
Easy availability:
PG accommodation also available in IT hub sector 33. Accommodation also available on sohna road sector 49. Accommodation near office leads to less expense on travel charges; you can also work late night. You can also rent a spacious and separate accommodation where you can enjoy independence and night stays of pg in gurgaon at affordable price. Get PG from a range of 5K-10K with included daily meals. Safety ensured accommodations are available in Gurgaon provided by Shree Sai Homes PG.
Good facilities:
In a fully-furnished boys PG in Gurgaon you can get facilities. Your fully furnished home would include Television, AC, Bed, Refrigerator, Washing machine, Parking place, CCTV camera for security surveillance along with security guards etc. Another problem faced by working class is finding peaceful environment, although searching for a paying guest location is entirely personal choice but finding a place near peaceful environment is good. Finding a good place with peaceful environment that allows you to work, sleep, and rest peacefully without any annoyance with good community is essential. You can find people from different communities from different part of the country to explore your personality. You can also find people from your own community making it feel like home in a new city. You can also search for accommodation away from the hustle bustle of the city for peace.
Get proper meals:
You won't have to bother about arranging separate food arrangements if you live in a paying guest lodging because the PG owner will provide you with three meals per day. Whether you have money in your pocket or not, you can be assured that you will not go to bed hungry because meals are included in your monthly PG fee. You will also receive delicious and nutritious food that is essential for your health, as well as a different food menu every day.
Looking for a home to live? Well, homes are a place where one can live. Homes make our lives beautiful, simple yet an important addition to our lives. Homes are the safe havens we believe we have. Living far from home doesn't mean you have to lose your homes. Shree Sai Homes PG helps people away from their homes find their second homes in Gurgaon.
We offer PG services to students, working youngsters and anyone in need of a home. We offer our services to boys and provide them with comfortable homes. Our firm saves you the ordeal of running around to find a good pg accommodation in Gurgaon sector 48 for yourselves.
Benefits our firm offers its clients are numerous, and that's why we always try to improvise. Some of the benefits we offer are-
AC or Non-AC rooms:
Shree Sai Homes PG extends its excellent housing facilities equipped with or without air conditioning according to the needs of our clients. Our facilities are best in the area in terms of quality as well as cost.
Hygienic food:
After a home, food is the utmost priority for a person. Our firm offers its tenants hygienic food three times a day. We believe that good food helps a man maintain a good life. Our firm offers the best PG accommodation in Gurgaon for boys.
Clean water: Although the level of water pollution in the area is well known these days, we continue to provide clean water to our visitors at all times during their stay. The majority of similar services in the area do not supply these essential amenities, but Shree Sai Homes PG does.
24×7 electricity:
Electricity is a basic amenity for everyone especially for students who have to study in the late hours of the day and we make sure they get full electricity access in their PG. customer satisfaction is elementary for every service provider. That's why Shree Sai Homes PG goes out of the way to provide our clients the best boys PG in Gurgaon.
Access to major places: Shree Sai Homes PG has properties at some of the major places in Gurgaon. Tenants can have easy reach to nearby market, temple, ATMs and gym. We offer instant travel booking services as well.
LCDs, inductions, and separate washrooms are also available, as well as soft beds, room fresheners, and charging plugs in each room. Our clients are our top priority, and we provide innumerable benefits to ensure that their experience is memorable. College life is difficult, but with our assistance, you can make it a little easier for yourself. We form a community of like-minded people who live together and form strong bonds over time. It's a fantastic way to spend your adolescence.
So come, and let us provide you your services choose Shree Sai Homes PG services for the time of your life! Take the right decision so you won't forget your time forever.